Travel is exciting and fulfilling- there's nothing quite like going to a completely different place in the world and experiencing entirely new surroundings. From breathtaking scenery to interesting new foods, meeting people who are completely different to you and learning more about yourself- it's always a good use of time and money. The only trouble is, the actual travel part can be pretty tedious. Getting from A to B, whether it's by plane, rail, coach or car can take a lot of time and be tiring and boring. To help combat this, it can be useful to have things you know you can do that will keep you occupied and allow the time to pass more quickly. Here are some ideas!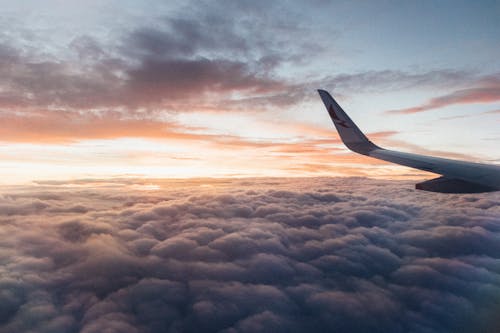 https://www.pexels.com/photo/white-airliner-wing-on-top-of-sea-clouds-2007401/
Catch up on some work
It might not be the most fun way to spend your time, however, it can be a great way to tie up any loose ends before your vacation or even earn a bit of extra money. If you're sitting on a train or plane, for example, you could easily get on with a bit of report writing even without access to the internet. If you have an internet connection on the transport you're on, you could catch up on emails or do other jobs here and there. Better than sitting around twiddling your thumbs!
Create content
If you're a content creator then this could actually be a great time to make something new- being in different surroundings can be really inspiring. You could work on your novel or write a poem, you could write an entry for your blog or vlog parts of your journey. If you have music software on your laptop you could create some new tracks, as long as you've got your headphones in you won't bother anyone. If you're a content creator and travel often then this really is the time that you can utilize. Invest in a good quality laptop, Macs are powerful although you might need to relearn some of the basics as they can be a bit different. Look at how to screen capture on Mac and how to left-click on Mac as examples. 
Consume content
Finally, a few hours sat in your seat is the perfect time to consume content. You could read a book, watch a movie or catch up on a series you've been meaning to watch. You could play games, listen to music- whatever it is you like to do. In most cases, you can do all of this right from your smartphone. Be sure to download content to your device in case your internet connection isn't always the best. 
Traveling from A to B can be boring, but keep yourself occupied and the tedious part will pass quickly. You'll be at your destination having fun before you know it!