One of the prime benefits of being back on the stunning coastline of Oregon is the abundance of fresh seafood. Over the last couple of winters in Baja we've been spoiled with fresh fish but of the warm-weather variety. Back here in often blustery Oregon we are once again indulging in such delicacies as fresh crab and oysters along with several types of clams, tuna, and Pacific salmon.
Although crab and salmon rank high on our list of favorites in the seafood category, often here is nothing better than a really great plate of fish & chips or grilled catch of the day to truly satisfy with that wonderful combination of soft, crisp, salty and tart with the requisite addition of malted vinegar and a squeeze of lime.
During our last few months, we've had plenty of visitors and you know what that means~ even more of a reason to head out to sample the nearby options of our new home base.
Around an hour south of us in the adorable village of Bandon. Founded in 1891, the Old Town consists of 10 blocks of charm. Cute shops, tasty restaurants, a wine bar, and brewery can easily use up an hour or two and make you forget the total population hovers around only 3000. Make sure to stop in for a tasting at the Stillwagon Distillery to try one of the world's largest number of flavored rum options and Cranberry Sweets for something sweet.
Washed Ashore, an art gallery featuring pieces produced from garbage reclaimed from the sea is a fantastic spot to admire some fun art while gaining an appreciation for just how much plastic and garbage ends up in our oceans. As we've traveled the world we are constantly saddened by the debris and pollution and it's heartening to see more and more folks out there embracing ideas to clean up our waterways.
Another great stop is Face Rock Creamery~ smaller than the more well-known version further north in Tillamook but full of all sorts of deliciousness.
All of this sightseeing and drinking means it's time for lunch! Our choice, head over to Tony's Crab Shack on the docks in the old town. Tony arrived in Bandon in 1989 looking for work and the magic has been going on ever since. His focus is on fresh, never fried, local catch and his crab sandwich is a marvel on toasted sourdough bread and dripping in fresh crab and 1000 island dressing.
photo credit: 10best.com
Back here in Coos Bay, we have a trio of spots that we return to again and again for the stunningly fresh catch and delicious options that have us dropping in. To be fair, Coos Bay is not, shall we say, considered a foodies paradise in most cases and the search for ethnic options or great variety will have you frustrated. (We have found a few gems which I'll highlight in a later post! )What they are great at is SEAFOOD.
Nearly four months in, Coos Bay is proving to be an interesting spot to call home. The history of the area is fascinating (more to come in later posts) but in recent years the town, which combined with neighboring North Bend is the largest on the Oregon coast, has faced hard times. The addition of new establishments such as Bay Point Landing and a few of our restaurant finds is showing a resurgence in the area and it will be fascinating to see how the paradigm shifts over the next years.
Right downtown, and across from the visitors center, is Fisherman's Seafood Market. This tiny floating restaurant offers up some of the best fish & chips around along with an amazing clam chowder served in a fresh sourdough bread bowl, heaven on a grey coastal day. If the 5 or 6 tables are full you always have the option of putting in a to-go order so as not to miss out on the goodness.
On nice days we often take it to go and sit on the provided tables along the waterfront walkway to best enjoy the views.
photo credit: seriouseats.com
Just down the street brings you to our local brewery at 7 Devils Brew Pub. Along with their delicious brews, they offer up an updated pub menu without a burger in sight. Their unique take on fish and chips is a fried albacore tuna dipped in beer batter and served with red potatoes, an arugula salad, and lemon-caper aioli. Delish! Excellent beer and food along with a dog-friendly patio? What could be better?
photo credit: 7 Devils Brewing
Finally, just three miles from camp is one of our favorite local hang-outs, Miller's At the Cove in Charleston. Part sports bar, part restaurant, Miller's is a go-to whenever we have visitors for the great service and fantastic fish. The fish tacos are popular but we seem to always go back to their fish & chips. Always incredibly fresh, perfectly cooked, and the ideal comfort food. It's not fancy food but it is good food.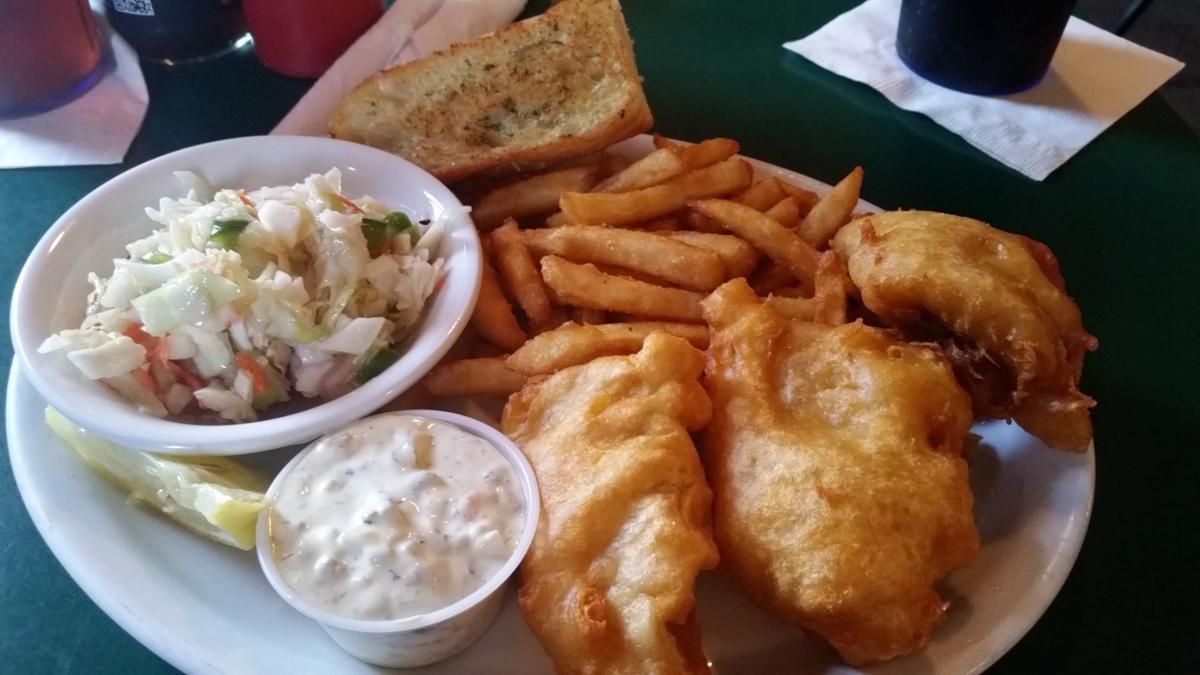 photo credit: theworldlink.com
For our final entry, we head an hour north to the sand dunes capital of Florence. Known for sand dunes and sea lions, Florence also boasts a small Victorian-style Old Town and some tasty eats. Our pick is Homegrown Public House. In case it isn't obvious. we are drawn to establishments that combine good brews and good eats and this example is no different. Add in a friendly staff and dog-friendly patio tables and we're in.
photo credit: Pinterest
An added plus for us is that Homegrown truly lives up to its name focusing on supporting the local community of farmers and growers for a farm-to-table menu that never fails to please. The big news from the Pub is that they're going to take a hand at brewing their very own beer soon, yet another reason to visit.
photo credit: Pinterest
Jim is often drawn to their fish & chips but for my money, their fried fish sandwich is the big winner. It is hands down the best one I've ever eaten with succulent fish, homemade tartar sauce and a house salad on the side. I am drooling just thinking about it.
Come on down for a visit and check out these fantastic finds for yourself.